High Security Door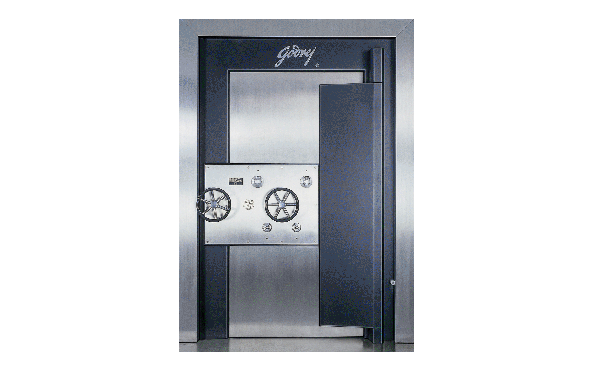 Bankers and Businessmen today are facing the ever increasing problem of security. A problem ­which Godrej has efficiently tackled, with their experience of over a 107 years in the security field.
Godrej's remarkable understanding to combat such criminal activities helps it to build highly impregnable barriers for maximum protection. In our continuous endeavor to offer you world-class products using cutting-edge technology, we now offer you another product, in the bank's armory – A Torch and Drill Resistant (TDR) Matrix High Security Door.
All our Strong Room Doors generally comply with IS 11188. They are made from tested premium quality steel, procured directly from steel manufacturers.
All ferrous components undergo seven step pre ­treatment processes through the state-of-the-art fully Computerized Surface Treatment Plant followed by an application of anti-corrosion primer coat. This is subsequently finished by overlaying layers of Nitro­ Cellulose paint giving it a superior gloss and lasting finish. This unique pre-treatment process ensures rust-free long life to all Godrej products.
Features
Door Frame : The door frame is one piece bent, rivet-less fully welded 'C' frame which imparts superior strength and sturdiness.
Rebate : The 65mm deep box jamb rebate protects shooting bolts against numerous forms of burglary.
Height Adjustment Mechanism : It comes fitted on the door and pivots for perfect alignment of door. It allows smooth effortless movement on pivots with arrangement.
Door Slab : HSD 65 As per class I of UL Standards.
HSD 65 As per class II of UL Standards.
TDR Matrix : Torch & Drill Resistant layer is a feature unique only to Godrej ensuring resistance to Burglary.
Limit Switch : Pivot operated limit switch for internal room lighting, ensures that the lights and ventilating system is ON only when the main door is open and the electric supply is cut off once the main door is closed.
Locking Mechanism : Two superior quality dual control, high precision 8-lever locks made of brass body as well as brass levers actuated by phosphor bronze.
Highly sensitive re-locking devices on the locks prevents burglary by instantly deadlocking the door if the locks are tampered or attempts made to dislodge them, either mechanically or by using liquid explosives.
One UL Listed 4-wheel Mechanical combination lock is provided with the door with nearly ten million combinations for setting and resetting.
A Unique Drill Defeat Shield is provided over locks and re ¬lockers, to safeguard them from power-drills.
A UL listed Time lock can be also be fitted on the doors as an additional locking option.
Other lock options include 4 – Wheel UL / VdS listed Mechanical Combination Lock Electronic Combination Lock and Biometric Lock.
Shooting Bolt : A 4-way shooting bolt mechanism [each of 50 mm (2″) dia.] – 6 bolts each on the left and right, 2 bolts each on the top and bottom making a total of 16 bolts.
Balanced Pressure Bolt Work : The locking mechanism has a balanced pressure bolt work which balances the handle operating force by converting it into an equal and balanced force on the lock bolt.
Automatic Deadlocking Device : Independent, highly sensitive deadlocking devices protects each of these locks against explosives, acid and other tool attacks through the keyhole.
Grill Gate : The grill gate is fitted with a high precision 8-lever dual control brass lock operable from both sides.
Anti-corrosion Treatment : All steel components are given a twelve-stage anti corrosion treatment, followed by rust inhibiting paint.
Total Thickness : The Godrej High Security Doors have total slab thickness ranging from 117mm(4 5/8′) to 202mm (8″). Doors of higher thickness can also be offered.
Overall size of HSD – main door ranges between 2350mm (92 1/2″) x 1400mm (55 3/32″) to 2400mm (95″) x 1515 mm (60″)
Doors of Higher TRTL ratings & Slab Thickness may also be provided.
specification

HSD 65

HSD 90

HSD 125

Main

Emergency

Main

Emergency

Main

emergency

Overall size H*W (mm)

2350 * 1400

1200* 1235

2350 * 1400

1200 * 1235

2400 * 1515

1300 * 1350

Clear opening H*W

1970 * 915

730 *750

1970 * 915

730 * 750

1970 *915

730 * 750

Thickness of door with lockcase

200

200

255

255

260

260

Recommended for wall thickness

480

480

480

480

480

480

Weight with packing

1750

770

1900

800

2200

1000